Of course, all this needs to be organized by responsible as well as experienced travel agents, marathon runners and safari guides.
Here is the team behind this unique project:
Meet Your Race Director: Sue Rudolph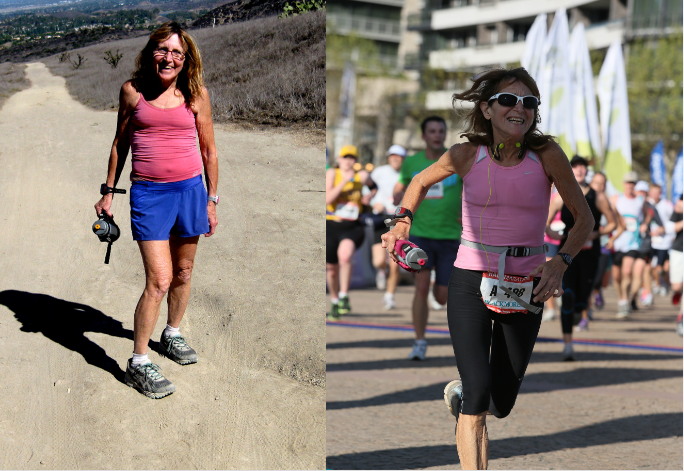 Sue first laced up her shoes and began running in 1978. It wasn't until 1982 that running a few miles per day had become habit, and that same year, she tried her hand at her first 5k and full marathon…after a long run of five miles.
Over the next few years, she ran numerous marathons in just over three hours. After a major foot injury took her out for some time, her road to recovery included trail running, which sparked a passion that would guide her running career from then on. This ignited a streak of trail and ultra runs, ranging anywhere from 26.2 miles to 50 miles. One hundred of these 50-mile races later, finishing around 8:48, she had finished among the top three women in nearly all of them.
She has run nearly all major-city marathons in the U.S., however priority races were still out on the trails, and she completed her favorite race, the Grand Canyon Rim to Rim to Rim run four times. Then, in 1992, she finally got to run her "dream race": the Western States 100. She finished in 29 hours.
She ran the Squaw Valley 50k for the fifth time, Baldy Peaks 50k 2.5 times, and another Grand Canyon run, finishing top five and grabbing personal bests in each of them. 1995 brought another foot injury, and racing would take a back seat until 2003, when she decided to go global. She conquered Trail marathons, 50k's, and 50 milers in Spain, South Africa, Sydney, Jordan, New Zealand, and on Mt. Kilimanjaro in Tanzania. She is now the leading travel expert for running tours to many of these countries.
She has since joined a cycling team and tried a few triathlons, and plans on completing a half IRONMAN and numerous endurance bike rides to supplement her running. In 2015 she has added "Race Director" to her name as she launches the Kenya Wildlife Marathon, where all proceeds go to the Kenya Wildlife Trust. Sue is a force to be reckoned with out on the trails, but hopes to inspire and help others run their dream races all over the world.
Assistant Race Director: Whitney Powell
Whitney happily lives a double life of being a passionate athlete and a filmmaker/producer for various shows as well as her own production company.
She grew up competing in many sports ranging from swimming to elite equestrian showjumping to elite men's rowing (as a coxswain). Now she competes as a marathon runner and full-distance IRONMAN triathlete, garnering sponsorships and networks of amazing and inspiring athletes and friends along the way. Many of these athletes became subjects of films and TV shows that Whitney has worked on in the hopes of inspiring others to do amazing things. She has filmed documentaries and TV shows domestically and internationally with Phil Keoghan (of "The Amazing Race"), numerous Olympic champion rowers, elite trail runners, IRONMAN champions, and health and fitness gurus.
Having a soft spot in her heart for elephants and adventure travel made the Kenya Wildlife Marathon an absolute dream to be a part of, and in addition to this in 2015, she plans on doing at least three marathons, three IRONMAN triathlons, and run the Grand Canyon from Rim to Rim (one less "Rim" than Sue did!).
ASSISTANT RACE ORGANIZER and Kenyan Liaison: VINCENT OCHIENG